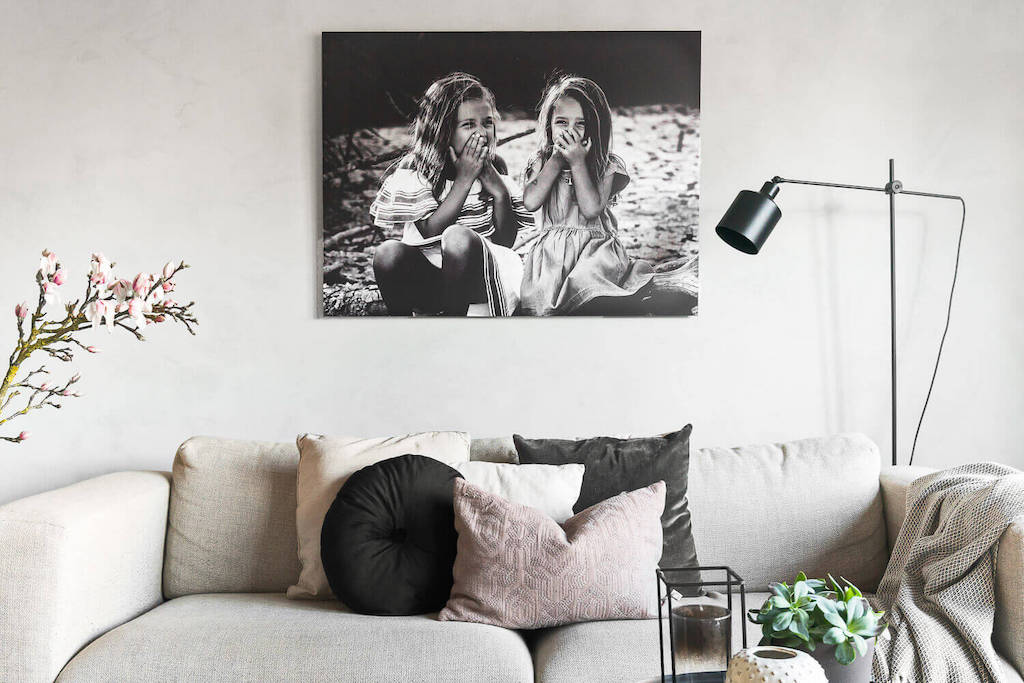 Assortment and materials
+ On what materials can I have my Instawall printed?
An Instawall or photo print can be printed on:
- Dibond Aluminum: a matte finish with an industrial look.
- Plexiglas: a glossy end result where the colors come out very nicely.
- Glass: museum-quality material where the colors come out to their best advantage.
- Poster: produced on 190 gr/m2 premium photo paper, printed with a fine-art photo printer for the best print quality.
- Framed prints with passe-partout: a print on 120 gr/m2 paper, printed with a fine-art photo printer, with a bright white passe-partout and a wooden picture frame.

+ What accessories can I order?
Complete your unique Instawall or photo collage with our accessories:
- Wooden poster strip: handmade wooden hanging systems, perfect for our posters.
- Wooden tray frame: the finishing touch to your Instawall or photo collage.
- Wooden photo block: easily place your Instawall or photo print.

+ In which color profile is printed?
The Instawalls and photo prints are printed in the Adobe SRGB color profile (for posters) and Adobe RGB 1998 color profile (for aluminum,acrylic glass and glass). In doubt about the correct color profile your photos have? If so, please feel free to contact us.
Please note, sometimes photographers deliver photos with the color profile Pro Photo. If we convert this color profile to our settings, the colors may vary.
If in doubt, always contact us.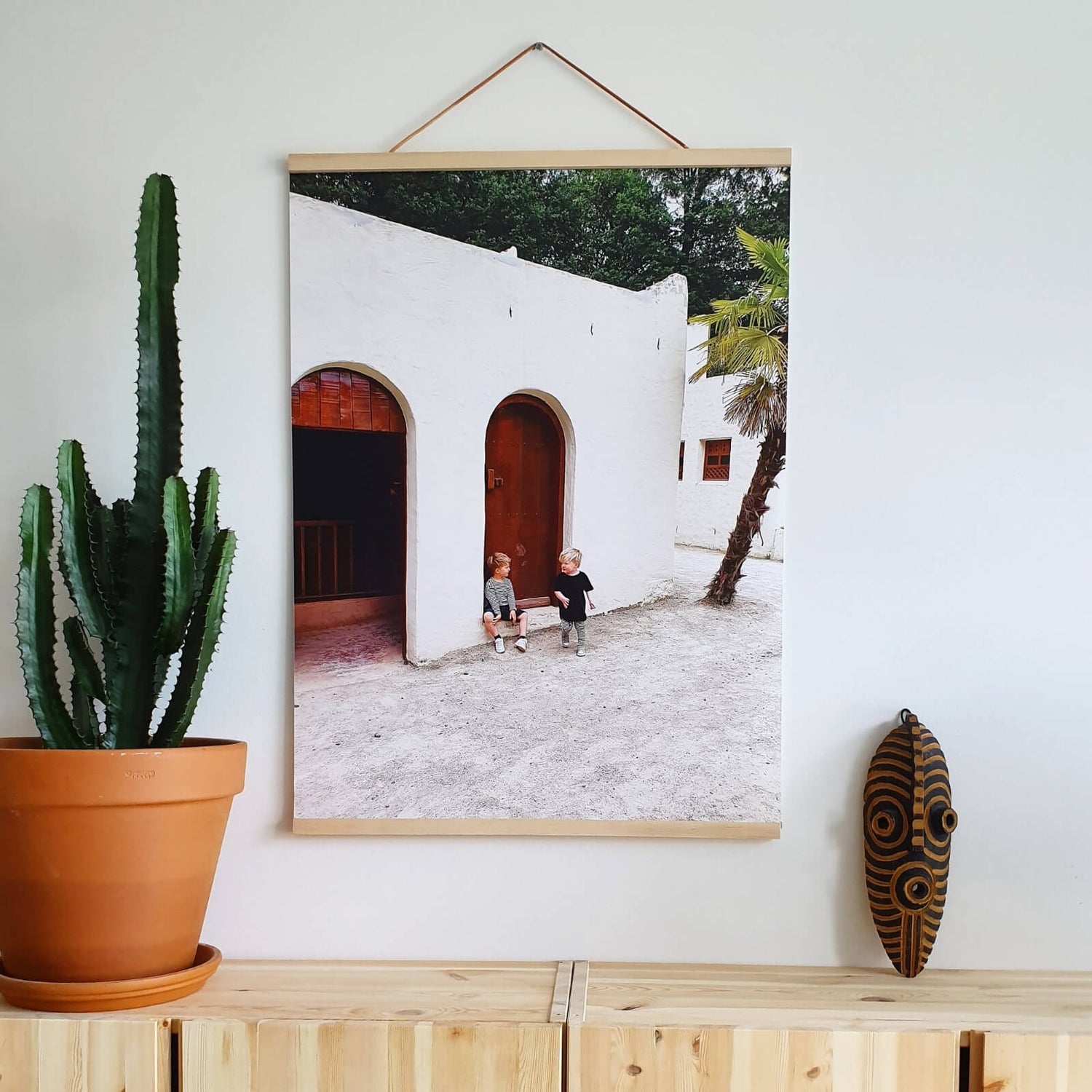 Hanging
+ What does the free hanging system mean?
Our photo products on aluminum, glass and acrylic glass come with a high-quality hanging system as standard. This is mounted during production so that you can immediately hang your Instawall or photo enlargement at home.
+ How can I hang up my Instawall or photo collage?
This is very easy with our hanging system that we mount on the back of your print, which is then hung on the wall with one or two screws. If you don't want to drill holes in the wall, you can also opt for a rail system with which you can hang and move your wall decoration by means of matching hanging hooks and cords. These rail systems are available at hardware stores and framers.
+ How can I hang my poster?
Your poster will look best in our handmade, wooden poster hanging systems. Of course you can also hang your poster in other ways. Frame it, pin it to a pinboard or use double-sided tape.
+ Do I get a hanging system with my poster?
Only if you purchase the photo strip with hanging system will you receive a wooden hanging system. All other posters are delivered without a hanging system. A handmade wooden hanging system can easily be ordered along.
+ Can I order a different size of the wooden hanging system?
The available sizes of the wooden hanging system are 25, 60, 70, 80, 100, 120 and 140 centimeters. These are fixed sizes and unfortunately cannot be deviated from. It is therefore not possible to have a hanging system made in a different size.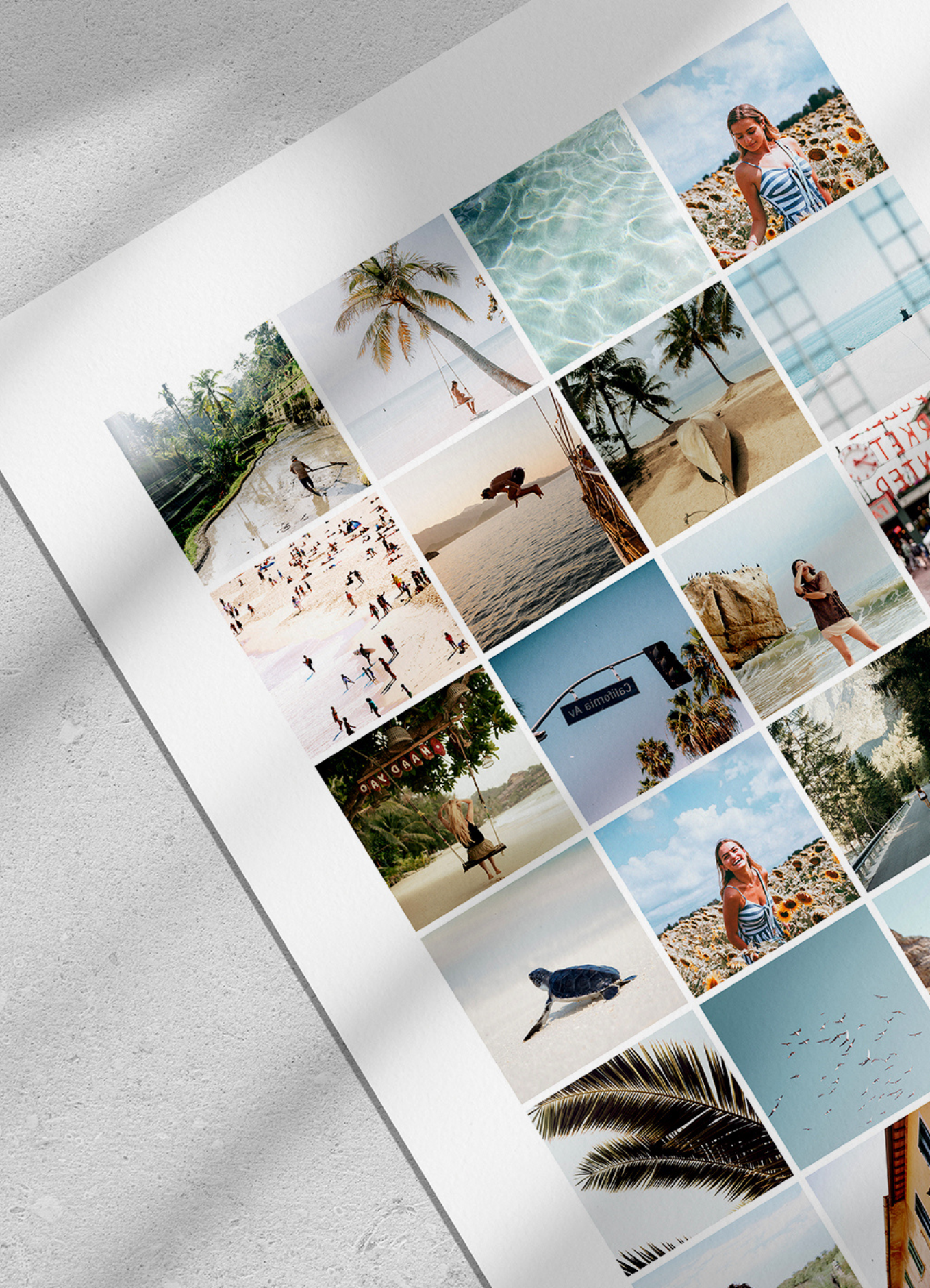 Creating and saving an Instawall
+ Of what quality should my photo files be?
Both in the tool for Instawalls and for photo books, photos taken with a camera or phone are often of sufficient quality. In Instawall, we look at a photo's pixel count to determine quality. Photos for a "small" box in an Instawall should be at least 640x640 pixels. You will automatically be notified by us if the resolution of the photo used is too low.

+ The tool indicates that the resolution of my photo is too low. What now?
Photos with a low resolution will not be printed sharply. We therefore recommend replacing low-resolution photos with other photos. Would you still like to keep the photo in your design, for example because the photo is very valuable to you? Of course you can. Just count on the fact that the print of the photo will be less sharp than the print quality you are used to from Instawall.

+ Can I save my Instawall project?
You certainly can! As a logged in user, you can save your Install project online. Just create an account and click the 'save' button in the tool. You don't need to download a program to your computer, everything can be done easily online.

+How long will my Instawall be saved?
An Instawall project and the photos you uploaded to it will be saved in your account for one month. Please note that the photos are linked to an Instawall project. If you want to create another size Instawall, you need to upload the photos again. If you ordered the photo project, the photos will not be visible in your account afterwards.

+ My photos are gone, can I retrieve them?
If you have been working on your Instawall for more than a month and have not saved it in the meantime, our system will be forced to delete it. Then our system is forced to delete the photos. Because of our privacy guidelines, the photos are not saved for longer than one month. Is your project less than a month away and your photos are still deleted? Then it may help to log in and out again, or to use a different internet browser. Please note, the photos are linked to an Instawall project. If you want to create a different size Instawall, you need to upload the photos again.

+I don't have Instagram, can I still create an Instawall?
You certainly can! You can upload photos directly from your computer, tablet, phone, Instagram or any other social media channel. So you don't need Instagram to create an Instawall.

+Can I replace my photos at a later date?
A printed Instawall or photo enlargement cannot be modified after it goes into production.